©2003
Liliana Heer
----------------------------------------------------------------

29.04.2007

33ª Feria Internacional del Libro de Buenos Aires
Women and Power de Gwendoyin Díaz

Se presentó Women and Power de Gwendolyn Díaz, University of Texas Press. La antología contiene textos, entrevistas, ensayos críticos y fotografías de 15 escritoras argentinas de distintas generaciones: Elvira Orphée, Angélica Gorodischer, Luisa Valenzuela, Tununa Mercado, Liliana Heer, María Kodama, Esther Cross, Ana Quiroga, entre otras.
Este exhaustivo trabajo realizado por Gwendolyn Díaz constituyo un valioso instrumento de difusión y conocimiento de la escritura de mujeres.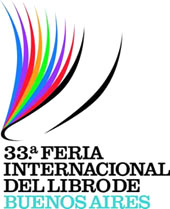 Relacionados:
Women and Power in Argentine Literature
Red summer
<

----------------------------------------------------------------